The Dadgum Dispatch: 023
Not all turnovers are created equal + points off of turnovers.
Carolina won its first game in February defeating NC State by the score of 85-79. The Tar Heels improved to 11-17 overall and 4-13 in league play.
Half of Carolina's league wins are now against NC State.
The Wolfpack were a little more effective shooting the ball, and avoided turnovers at about the same rate as Carolina. The Tar Heels cleaned the offensive glass and made 22 free throws to NC State's 13 free throw attempts.
The box score shows NC State scoring 23 points off of 15 Carolina turnovers. The 23 points is the most by an opponent in a win this season.
But what if those 23 points should be more like seven points?
---
Not All Turnovers are Created Equal
Turnovers are like pasta. There are lots of different types.
While we can get super granular like Adrian Atkinson's nugget about Armando Bacot hitting for the turnover cycle earlier this season, let's divide turnovers into two buckets.
Dead-ball turnovers: ball changes possession after the whistle is blown

Live-ball turnovers: ball changes possession without any stoppage of play
An example of a dead-ball turnover is an offensive foul and a steal is an example of a live-ball turnover.
In the traditional box score, any points after any type of turnover count as points off of turnovers. It's comparing apples to oranges. Rigatoni to gnocchi.
Live-ball turnovers and dead-ball turnovers are not the same.
Points after a dead-ball turnover have less to do with the turnover because your defense has an opportunity to get set. While points off a live-ball turnover can have lots to do with the turnover because your defense is limited or non-existent.
Carolina's turnovers against NC State
The Tar Heels turned it over 15 times over 76 possessions. This means about 19 percent of Carolina's offensive possessions ended without a shot.
Eight of Carolina's 15 turnovers were of the dead-ball variety. 14 of NC State's 23 points "off of turnovers" came after a dead-ball turnover.
Nine of the Wolfpack's 23 points came after a Carolina live-ball turnover. Two of those points didn't come directly off a live-ball turnover though.
After a live-ball Cole Anthony turnover early in the second half, the Tar Heels stopped the ball leading to a jump-ball in favor of the Wolfpack.
NC State scored out of the baseline out-of-bounds play, and while it was after the turnover, it wasn't directly after it.
While turnovers are sub-optimal, Carolina only had four turnovers over the last 15:34 of game time and all were dead-ball turnovers. No live-ball turnovers like during the collapses against Clemson or Duke.
NC State's turnovers against Carolina
Carolina scored 15 points off 14 NC State turnovers. The Wolfpack had eight dead-ball turnovers and six live-ball turnovers.
Only six of those 15 points came directly after a live-ball turnover. Those six points might feel small, however, all happened during pivotal moments of the game.
After a yakety sax ending of the half, Leaky Black scored two points to steal a possession and opportunity for NC State to take a lead into halftime.
C.J. Bryce's live-ball turnover led to a pair of Garrison Brooks free throws that began to springboard Carolina's 22-4 run in the middle of the second stanza.
The final Wolfpack live-ball turnover stretched the Carolina lead as Cole Anthony picked off the pass for a dunk.
Points directly off of turnovers
The box score shows a 23-15 advantage for the Wolfpack in this category. When you look at the film, the real advantage is about 7-6 for points off live-ball turnovers.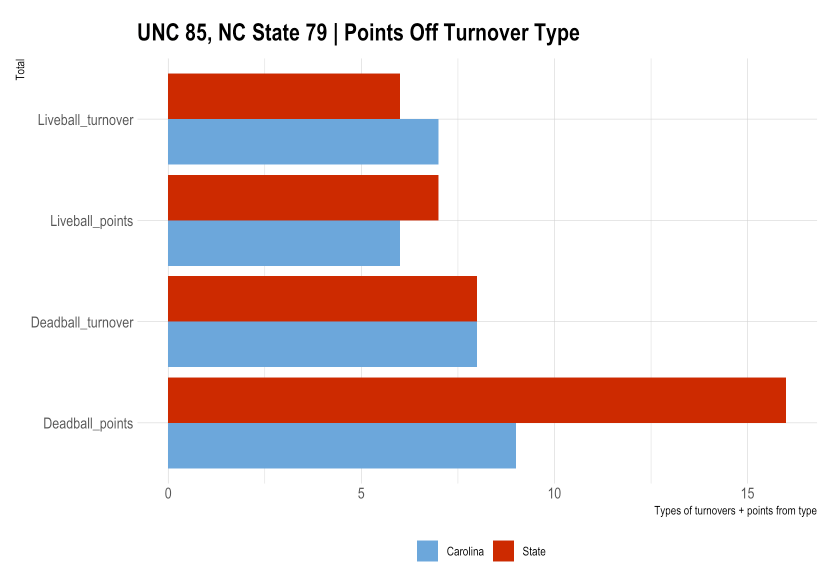 Math can sometimes over-organize by translating things into numbers. During this process, you tend to lose track of intangible aspects like taste or aesthetics.
So when the box score shows points off turnovers, remember this is comparing apples to oranges.
Because not all turnovers are created equal.
---
The Tar Heels have three regular season games left. Fascinated if this club can hand out a few more bad losses.
And since today is the 23rd edition of The Dadgum Dispatch, here is a fun GIF of number 23 in Carolina blue.

🎬 Thanks for reading this far, and please share this post if you find it useful or helpful. 🤝