The Dadgum Dispatch: 022
The ball doesn't go in the basket + why negative shot volume is bad.
North Carolina has lost six games in a row. The Tar Heels are 10-16 overall and 3-12 in ACC play.
Carolina's ability to squander leads remains improbable.
The Tar Heels can now only hand out bad losses to other teams because its own chances of making the NCAA Tournament are slim.
Four of Carolina's remaining five opponents are locks to make the tournament or flirting with the bubble. Maybe the Tar Heels can create some chaos?
---
Making Shots is Important
As Mark Titus might say, making shots is important.
The Tar Heels fail to make shots at what continues to be an alarming rate. Carolina has made 537 of its 1159 two-point shots and 138 of its 473 three-point shots.
46.3 percent from two-point land.
29.2 percent from three-point land.
Bad. That's not good.
How does that compare to other teams in the Roy Williams Era or since the 2003-04 season?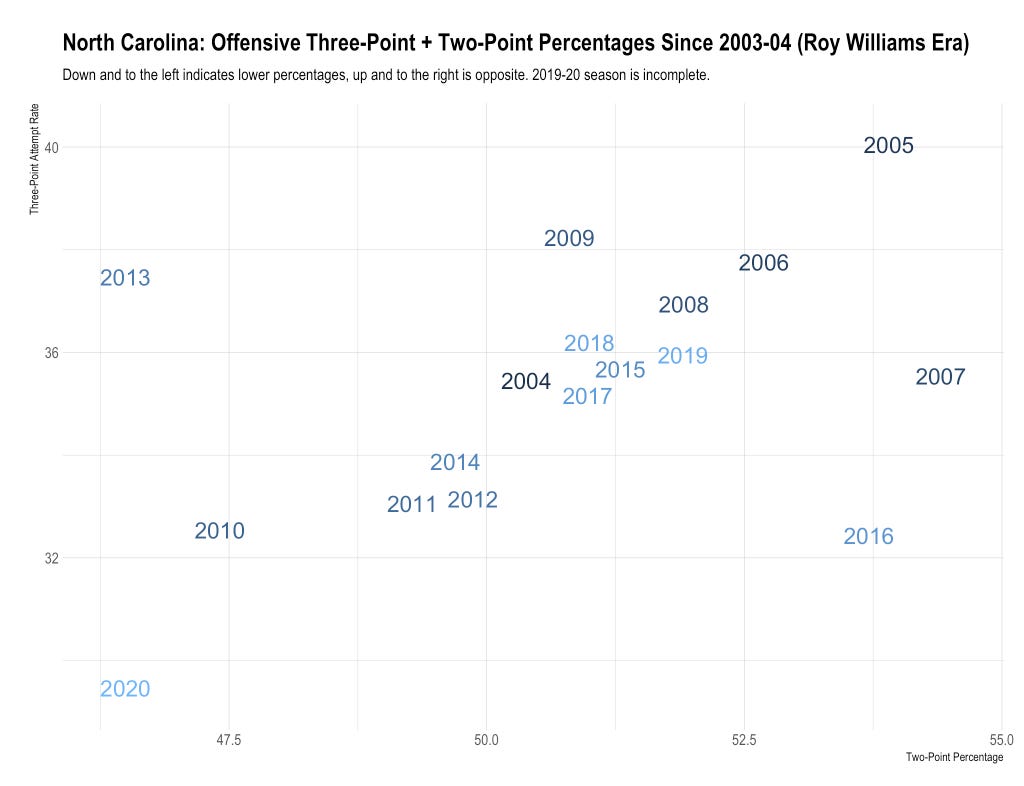 ⬇️↙️ indicates a lower percentage (less gifted)
⬆️↗️ indicates a higher percentage (more gifted)
The 2019-20 team is almost falling off the page bad.
The Roy Williams Era is comprised of 612 games at this point. The Tar Heels post the following performances in a game this season:
25.6 two-point percentage (lowest ever, Ohio State)

6.2 three-point percentage (second lowest ever, at Wake Forest)

7.1 three-point percentage (third lowest ever, at Virginia)

30.6 two-point percentage (fourth lowest ever, at Florida State)
Carolina simply hasn't made a lot of shots.
When reviewing this on an individual basis, only two players are scoring more than one point per shot (two-pointers or three-pointers) with an above 50 true shooting percentage.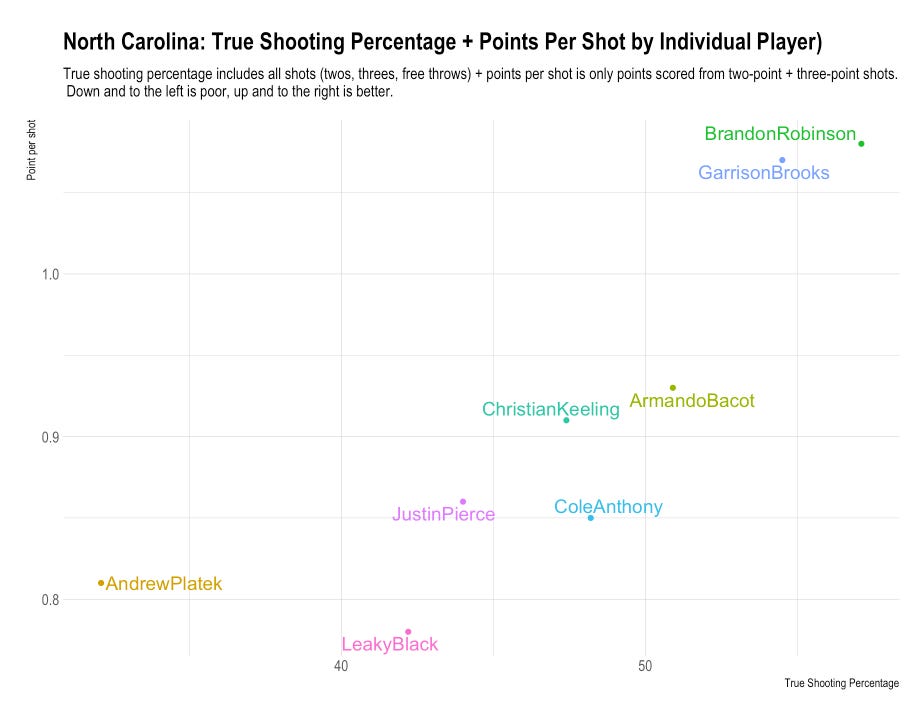 The Tar Heels lack efficient scorers. Consider the following . . .
Cole Anthony missed 11 games, yet he has still attempted about 16 percent of Carolina's shots. The problem is Anthony only scores 0.85 points per shot.

Andrew Platek has made three more free throws than three-pointers. The problem is Platek has attempted 27 more three-point shots than free throws.

Leaky Black attempts 70 percent of his shots from two-point land. The problem is Black has made only 37.4 percent of those two-pointers.

Garrison Brooks leads the team with 131 free throw attempts. The problem is the junior scores about 0.56 points from the foul line.
It involves a ton of effort for Carolina to put the ball in the basket. If you compare the Tar Heels points per shot as a team from this season to last season, the inefficiency of this season is stark.

The 2019-20 Tar Heels do not score over a point on any shots. Not two-pointers. Not three-pointers. And definitely not free throws.
Everything looks bad when the ball doesn't go in the basket.
---
Negative Shot Volume Strikes Again
While making shots is important, shot volume might be more important. It may be paramount for this team's success given the ball often doesn't go in the basket.
The shot volume recipe is simple.
Avoid turnovers + force turnovers + get rebounds = shot volume success
In the overtime loss against Duke, the Blue Devils had several more opportunities to score. Take only the five minute overtime period.
Duke had eight more chances to score and won at the last second.
While the Tar Heels suffered a brutal loss at home to Virginia last weekend, Carolina nearly stole the game from the Wahoos with solid play down the stretch.
The Tar Heels gave the game to Notre Dame earlier this week with poor shot volume.
Carolina owned a 14-point lead with 10 minutes to go in South Bend. It was outscored by 15 points over the last quarter or 10 minute segment and lost by one.
The last four minutes of the game were even more telling, so here is the breakdown of opportunities to score along with turnovers and offensive rebounds:

The Irish had 11 opportunities to score, and collected 10 points. The Tar Heels had four opportunities to score, and collected three points.
The turnovers are bad because it eliminates a chance for your team to shoot. Not all turnovers are created equal, however, they're all bad.
This live-ball turnover gave Notre Dame three points in about six seconds.
This dead-ball turnover meant the Tar Heels burned about 20 seconds off the clock, yet didn't even get a chance to shoot or score.
The two Notre Dame offensive rebounds were also massive down the stretch. John Mooney gets a rebound here with three Tar Heels in the lane. It went from Carolina getting a stop to the Irish getting points.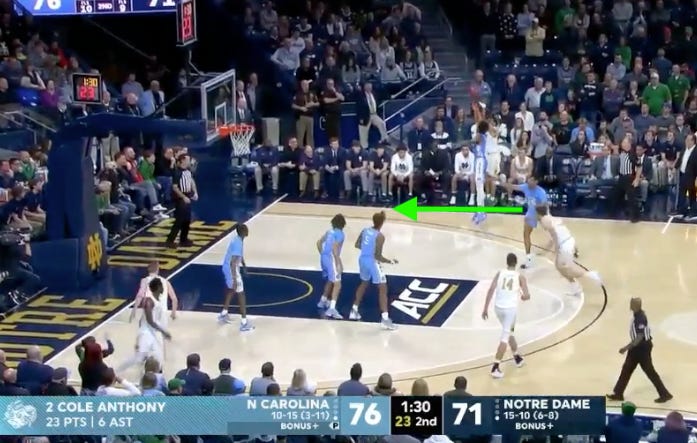 Notre Dame's Rex Pflueger dominated down the stretch without taking a shot. Pflueger gets excellent position for an offensive board and kick out three for the win on the last play of the game.
Turnovers and rebounds. Shot volume matters.
---
👍 Thanks for reading this far, please share this if you find it useful. 😬